TBA was formed by Coventry born singer and lyricist Terry Hall formerly of The Specials, Fun Boy 3 and The Colourfield. Terry has often admitted that he prefers working with women and so for his final album for Chrysalis Records he went on the search to find a female music director who could play, sing, arrange and co write with. He found this with American born songstress Blair Booth who at the time was unknown but up and coming.
Blair remembers that at the time another female singer songwriter Collette Meury was also being considered. During the interviewing process that went more like an interrogation; both Blair and Collette were asked who they new in the 'business'? Collette replied she knew the cellist from The Colourfield. Blair replied she didn't know anyone! And so Blair quickly was hired.

A lot of the work of writing the album was done via the post. Terry would send tapes of music that he liked. This included an eclectic mixture of music. Artists such as The Mamas and The Papas, Leonard Cohen, The Doors, Captain & Tennille and Jerry Leiber/Mike Stoller's 3 Cool Cats. TBA covered both 3 Cool Cats and Captain & Tennille's Love Will Keep Us Together. Guess love didn't keep them together as they divorced in 1972!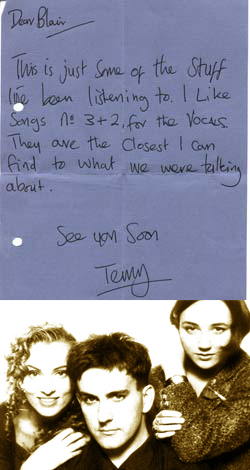 Blair' love of 60s music suited Terry's new direction and she set about writing and arranging new tracks for Terry to write lyrics to. In those days her set up was quite small but functional and all the music arrangements were done on the MC500 which she has kept as a memento to this day.
Terry had made mention to Blair the he was looking for a female guitarist. Blair had the duty of auditioning a few that Terry's management had found but none were acceptable. During one of Blair's visits to a hair salon called Antenna in Kensington, London. Blair asked the stylist if she knew anyone that might be suitable. The stylist showed Blair some pictures of Anouchka as she had done some modeling for Antenna. Blair was impressed and rang Anouchka to ask if she would be interested. At first Anouchka thought it was Jerry Hall who wanted a guitarist and declined. Blair was even more impressed that Anouchka didn't know who Terry Hall was and was convinced she would be perfect as Terry hated the 'I'm your greatest fan' vibe. And so Terry Blair & Anouchka were born.
After a few months and various trips up north demoing the songs took place. Blair and Anouchka went to Blue Print Studios in Manchester, later they recorded in various London studios and eventually the production of the album was to start in earnest at Tears for Fears studio The Wool Hall in Bath, Somerset.
Jeremy Green had been ushered in as producer. He had done some remixing and engineering for Fun Boy Three years before. It was apparent that Mr Green's behavior presented a problem in the studio and personality conflicts grew to a heated level particularly between Jerry, Terry and Blair. So without further ado he was quickly fired.
Having had suffered a false start to the process of recording the album, a new producer by the name of Bob Sargeant was invited to take the project on. Bob's background was a BBC recording engineer back in the days when they had to wear white coats. Mirror In A Bathroom by The Beat was just one of Bob's claims to fame, not to mention Haircut 100.
TBA were stationed now in Camden's Roundhouse Studios. Blair recalls Anoucka reading a lot, Terry making tea and Blair getting frustrated with the various session musos who came and went sanitizing the arrangements. Blair maintains the demos had more charm and sincerity and a small chamber orchestra would have been brilliant on Missing.
By 1989-90 Ultra Modern Nursery Rhymes was completed. The first single released was a kitsch little number called Missing which won Music Week's single of the week and Channel 4's Going Live, won best single with no thanks to Richard Branson, but with thanks to Wendy James of Transvision Vamp and Status Quo! The single however peaked at 75, but was a hit in Norway, go figure?

Their second single Ultra Modern Nursery Rhymes was released in February 1990 however this did not chart at all but many consider this track an over looked gem. Two videos were made for both singles which was Blair's first experience at appearing in a fully fledged pop video. Blair even designed her own dress in UMNR. Comedian, magician Jerry Sadowitz made a guest appearance on the UMNR video and some 20 years later he complained about his appearance on YouTube. A determined Blair learned graphic animation and used Adobe After Effects to replace him with various new characters of her own design. See if you can spot Marc Bolan?!
Funny how things work out, or don't as the case may be. Terry, Blair, Anouchka and Bob Sargeant felt Fish Bones and Scaredy Cats should have been a single. A fun track where Blair gets the opportunity to chastise Terry's somewhat paranoid demeanor! There are really some great songs on the album that deserve to be heard. Have a listen to the album on the mp3 player! The album is available on:
Ultra Modern Nursery Rhymes is available from: